Shop
Featured Products
Oregon Wild Smoked Chinook Salmon - MOIST
$ 39.95
**Please select only 2 day or Priority Overnight shipping to receive this product properly**
MOIST The softest, juiciest morsel that sea lions like to eat first.
Honest-and-truly smoked with alder cut from our own woods. Each satisfying piece is filleted by hand and monitored to smoky perfection in all kinds of wind and weather.
-Displayed price reflects the product price + shipping materials-
-Each Quantity selected is 1 pound of Smoked Salmon-
**Orders after Tuesday's will be shipped the following Monday unless Priority Overnight shipping is selected**
Our Smoked Salmon is sold in individual pounds to ship. Each one of our pieces is approx half a pound. A typical 1 pound order will include 2 pieces
Ingredients: Chinook Salmon, Sea Salt, Cane Sugar, Pepper, Alder Wood Smoke
View product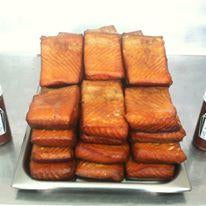 The funny thing about legendary places is that they aren't legendary until you find them.